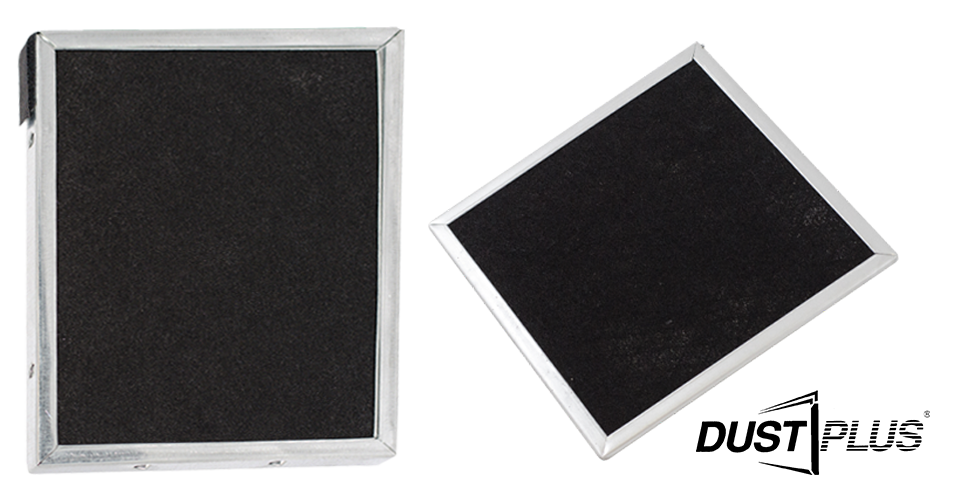 Permatron DustPlus ® Electrostatic Filter with Odor Control Carbon Panel Insert Kit
All filters undersized by 1/2" on the length and width, as is standard for filter sizing. Please measure your current filter. 1" thick filters are up to 1/8" undercut on thickness, 2" filters are up to 1/4" undercut on thickness.
Kit includes one DustPlus filter with one carbon panel insert, replacement inserts are available in four-packs in the dropdown menu above.
DUST RELIEF PLUS ODOR CONTROL!
Get dual action air cleaning relief from airborne particles such as dust, pollen, and mold, PLUS adsorb noxious odors and fumes from tobacco smoke, cooking, pets and cleaning products. Requires no more space than an ordinary furnace filter, it's two air filters in one! 
The DustPlus air filter contains a woven synthetic front panel, which carries a permanent electrostatic charge to attract and hold airborne particulates. The interchangeable odor absorption panel consists of activated carbon media, which adsorbs noxious odors/fumes. Depending on odor and fume levels, this panel should be changed every 3-4 months in the average household.
More about the Dust Plus:
• Washable electrostatic Dust Plus filter with 1 disposable carbon panel insert (insert lasts 3 months, replacement inserts available for purchase in packs of 4)
• Galvanized steel frame with wire reinforcement opens & closes for easy back panel replacement
• Exclusive ACCUMULATOR CHAMBER® design for maximum performance
• Lifetime warranty on permanent parts only, warranty does not include activated carbon
• UL Classified as to Flammability Only
How the Accumulator Chamber Works
Utilizing two electrostatically charged fabric panels separated by our unique Accumulator Chamber produces a very effective three-stage air filtration process for residential applications. The first air filter media panel (the prefilter) attracts and holds airborne particulates. The filter fabric's inherent electrostatic charge enhances filtration by drawing particulates onto fiber surfaces like a magnet. Static electricity does not discharge over time because the air flow helps it maintain the charge – nor does it require insulation or grounding. When particulates build up on the DustPlus's prefilter, airflow forces them to break off and collect in the Accumulator Chamber, where turbulence and electrostatic forces cause agglomeration into even larger particulates. These agglomerated particulates are too large to pass through the second panel (the afterfilter).
DustPlus's activated carbon afterfilter also traps particles that do not respond to an electrostatic charge.
DustPlus Electrostatic PreFilter Specifications:
Avg. Arrestance Efficiency 78%
Dust Holding Capacity 115 gm.
Initial Air Flow Resistance 0.19" w.g.
Activated Carbon Panel AfterFilter Specifications:
Initial Airflow Resistance: 0.14 in. w.g.
Average Arrestance Efficiency 81%
Dust Holding Capacity 80 grams
15.1 grams carbon per square foot of nonwoven polyester media
U/L Classified as to Flammability Only
Carbon Panel Inserts (available in the dropdown menu above).  
Disposable activated carbon panel filter is highly effective for removing organic odors. Framed in galvanized steel frames in 1/8" to 1/4" thicknesses. Synthetic media (100% nonwoven polyester) is impregnated with finely ground, highly porous coconut shell based activated carbon, and heat set to retain those coatings even when the media is rinsed or vacuumed.
Activated carbon panels can be used alone, or as an afterfilter within the DustPlus® 1" furnace air filter or electronic air cleaner prefilter/afterfilter upgrade kit. DustPlus afterfilters do not require a wire mesh stabilizing layer as the reuseable main frame already contains one. Stand alone carbon panels or electronic air cleaner afterfilters require a wire mesh stabilizer.