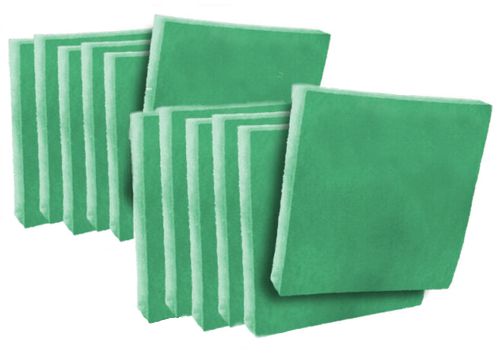 (12 Pack) 3/4" Thick Green/White Antimicrobial Polyester Air Filter Pads Refill A+2000 OEM
Choose your size in the drop down menu above.
12 pack of 3/4" thick green/white antimicrobial polyester filter pads.
Convenient

-

Save time and money by not having to travel to acquire a new filter
Efficient

-

More efficient at capturing particles, such as dust, ragweed, pollen, etc., from the air, than standard furnace filters
Anti-Microbial

-

Air filters have been identified as a prime breeding ground for many types of microorganisms due to the surface area, nutrients, temperatures, and moisture they provide for reproduction and survival. Anti-microbial agents are effective in reduction of a broad range of microorganisms; including molds, mildew, fungi, yeasts, and gram positive and gram negative bacteria.
Economical
-
Studies show that disposable inserts and permanent frames are the most economical way to filter air
Easily Stored
- A+2000 filtration inserts are shipped in an easily-stored packet
May be compressed for shipping
, if so, l
et the pads loft out when you receive them. Sizing is nominal as is standard for filter sizing, thickness is not exact.