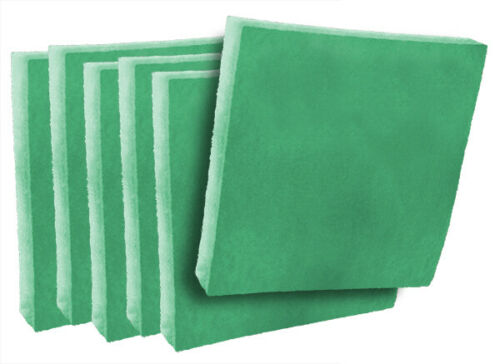 (6 Pack) 1" Thick Green/White Antimicrobial Polyester Filter Pads
6 pack of 1" thick antimicrobial green / white air filter pads.
Please choose your size in the drop down menu. 
If your size is not listed, please contact us so we can list your size.
Made in the USA
Convenient

- Save time and money by not having to travel to acquire a new filter
Efficient

- More efficient at capturing particles, such as dust, ragweed, pollen, etc., from the air, than standard furnace filters
Anti-Microbial

- Air filters have been identified as a prime breeding ground for many types of microorganisms due to the surface area, nutrients, temperatures, and moisture they provide for reproduction and survival. Anti-microbial agents are effective in reduction of buildup on the filter of a broad range of microorganisms; including molds, mildew, fungi, yeasts, and gram positive and gram negative bacteria.
Economical
-
Studies show that disposable inserts and permanent frames are the most economical way to filter air
Easily Stored
- A+2000 filtration inserts are shipped in an easily-stored packet
Easy Disposal
- Once used, inserts can be disposed of in a trash compactor or receptacle 
May be compressed for shipping, if so, let the pads loft out when you receive them. Sizing is nominal as is standard for filter sizing, thickness is not exact.