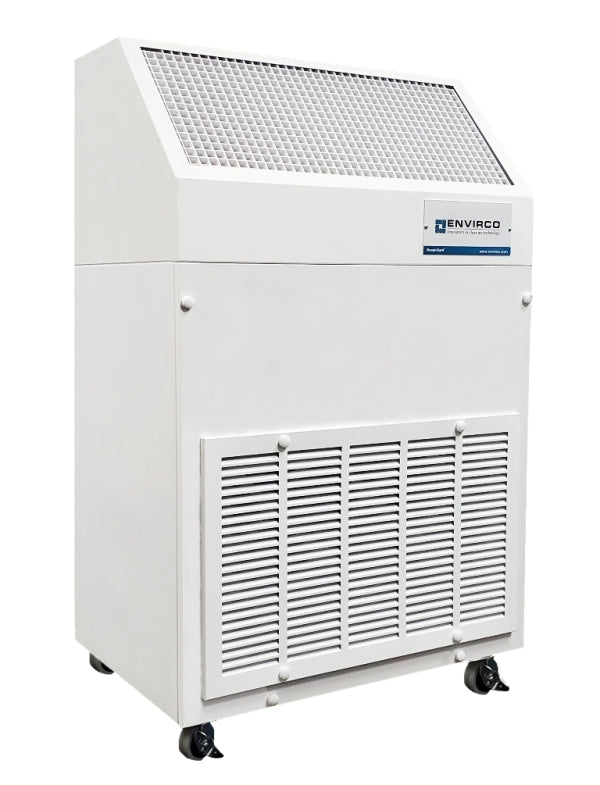 Envirco IsoClean® 400 Portable HEPA Air Cleaner (UV Light Optional)
Optional pickup can be arranged in Lehighton, Pennsylvania.

Choose your voltage and UV Light options in the dropdown menu above.
ENVIRCO IsoClean 400 Portable HEPA Air Cleaning System
Engineered to provide the optimum combination of efficient HEPA air cleaning and provide a large number of room air changes per hour which can minimize the spread of airborne diseases. The IsoClean 400 comes equipped with a hospital grade HEPA filter that has an efficiency of 99.99%. The unit can be set up in three modes: 100% recirculation, 100% exhaust (negative pressure) and partial exhaust. Both the prefilter and HEPA filter are easily accessible for quick and easy replacement. Easy to use and move, the IsoClean 400 fits easily in areas with limited floor space.
How it Works
The Isoclean is designed to draw unfiltered air into the lower portion of the unit towards the prefilter. The prefilter goes to work and begins the process of filtering out contamination such as dust, dirt and dander. Air then heads to the HEPA filter. ASHRAE is currently recommending a MERV 13 rating to combat airborne pathogens. HEPA filtration provides and even greater line of defense than a MERV 13 filter. Finally, the air is cleansed. When configured for 100% air recirculation, the HEPA filtered air is returned to the environment.
Durable Components
The IsoClean 400 is manufactured in the USA and contains durable and long lasting components. The cabinet is made of welded steel which is designed to withstand everyday usage and the HEPA filter is long lasting which cuts down on replacement costs. The optional UV-C light adds an additional level of disinfection. UV-C light acts to destroy many indoor pollutants such as viruses, bacteria and mold. When combined with HEPA filtration, the IsoClean 400 is a leading option for clean air environments.
Applications
Classrooms • Education Facilities • Waiting & Reception Areas • Gyms & Spin Rooms • Yoga Studios • Stadium Suites
Features
Up to 400 CFM of HEPA filtered air
Three configurations: 100% recirculation 100% exhaust and partial exhaust
Negative pressure capable
Variable speed adjustment
Greater than 6 air turnovers typical in a 500 sq. ft. space
Quiet operation and simple maintenance
99.99% efficient at 0.3 micron aluminum frame HEPA filter standard
Low-High clean air circulation pattern
UV-C light upgrade available (IsoClean 400UV)
Dimensions
23-3/4" x 38-1/4" x 15-3/4" (without UV Light)
23-3/4" x 38-1/4" x 19-3/4" (with UV Light)
SPECIFICATIONS ARE SUBJECT TO CHANGE WITHOUT NOTICE AND WITHOUT INCURRING LIABILITY FOR MODIFICATIONS TO EQUIPMENT PREVIOUSLY SOLD. 
No medical 
guarantees 
expressed or implied by the distributor.