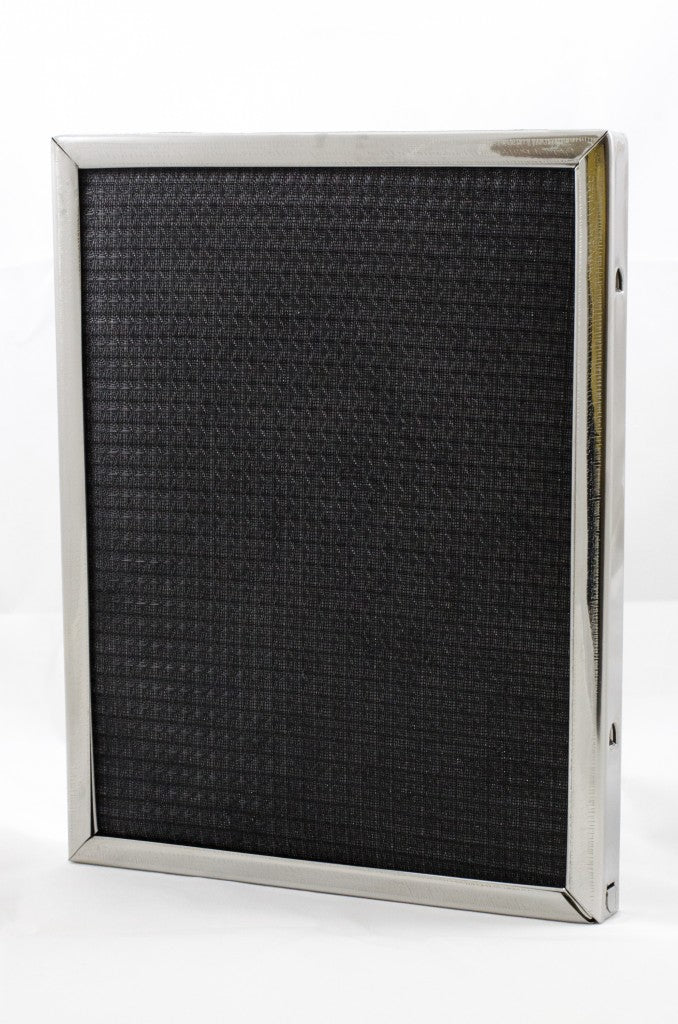 Permatron DustEater ® Filter - 1/4" or 1/2" Thick - Washable Electrostatic
Choose your size in the dropdown menu above.
DustEater ® Washable Electrostatic Air Filter
1/4" or 1/2" thick version 
All filters undersized by 1/2" on the length and width as is standard for filter sizing, please measure your current filter.
DustEater (Model DE), our air cleaning dust relief electrostatic air filter, contains a combination of polypropylene and nonwoven polyester for increased arrestance efficiency, wire reinforced in a stainless steel frame.
MERV 6
Stainless steel frame with drain holes 
Average Arrestance Efficiency: 91% 
Dust Holding Capacity: 160 gm. 
Initial Air Flow Resistance: 0.16" w.g. 
U/L Classified as to Flammability Only 
Lifetime Warranty
DustEater Features A Proven Air Filter Design
Permatron's DustEater is arguably the most effective washable electrostatic air filter manufactured in the U.S.A. for residential use. This air filter has been used successfully in residential furnaces for over 30 years, but the electrostatic air filter design, featuring our exclusive Accumulator Chamber construction, was originally designed for commercial applications over 50 years ago.  Designed to extend the working life of the air filter between cleanings, the Accumulator Chamber protects against dirt face loading.   Whether for standard furnace sizes, or custom built to meet a specific requirement, DustEater air filters are extremely effective electrostatic air filter for use in the home.
How the Accumulator Chamber® Works
Utilizing two electrostatically charged fabric panels separated by our unique Accumulator Chamber produces a very effective three-stage air filtration process for residential applications. The first air filter media panel (the prefilter) attracts and holds airborne particulates. The filter fabric's inherent electrostatic charge enhances filtration by drawing particulates onto fiber surfaces like a magnet. Static electricity does not discharge over time because the air flow helps it maintain the charge – nor does it require insulation or grounding. When particulates build up on the DustEater's prefilter, airflow forces them to break off and collect in the Accumulator Chamber, where turbulence and electrostatic forces cause agglomeration into even larger particulates. These agglomerated particulates are too large to pass through the second panel (the afterfilter). DustEater's afterfilter attracts and holds the smaller particulates that may have escaped the prefilter, or particles that do not respond to an electrostatic charge.
Ships for Free!