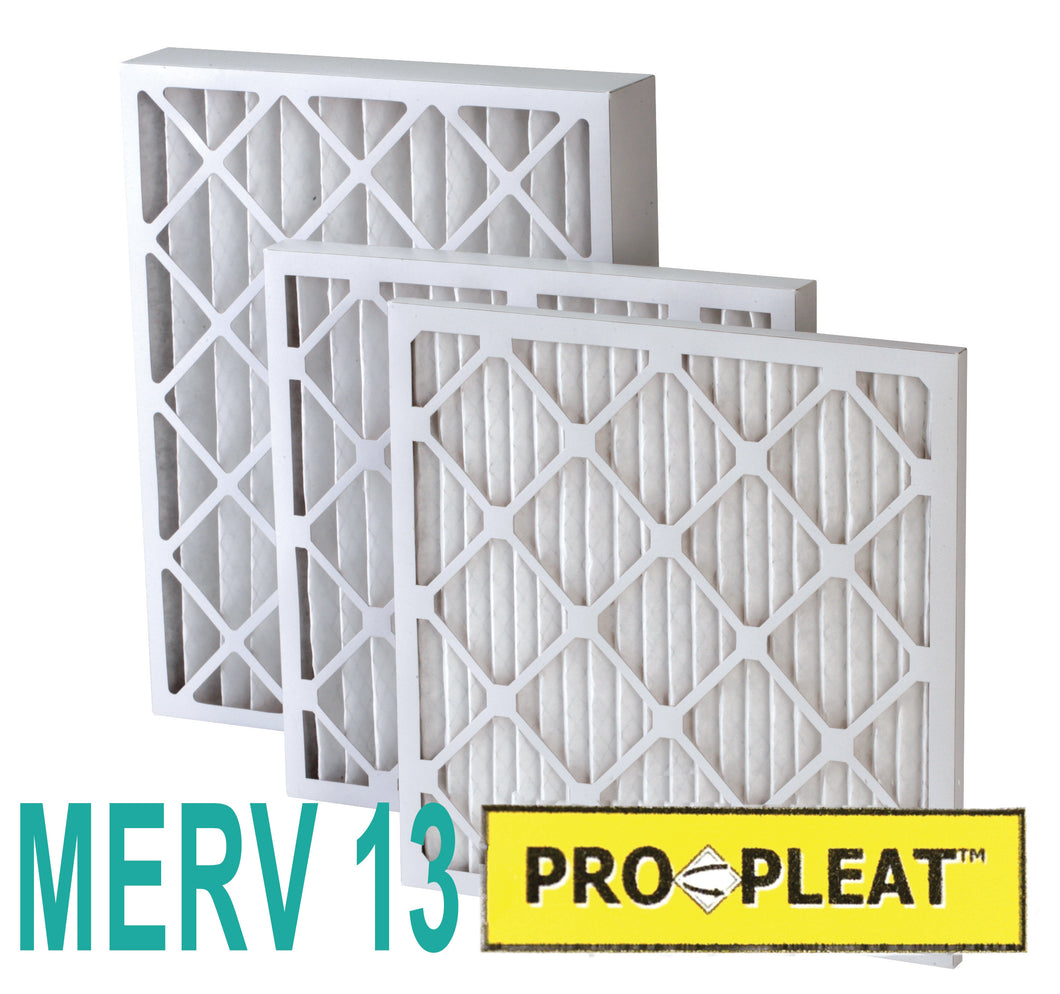 Pro-Pleat MERV 13 Pleated Air Filters (12 Pack of 1" or 2" - 6 Pack of 4")
MERV 13 - 
12 Pack of 1" or 2", 6 Pack of 4" filters.
Choose your size in the dropdown menu above.
Filtration Manufacturing Inc.'s Pro-Pleat
extended surface pleated filters are a high quality filter designed to provide higher efficiency with less resistance to airflow than typical panel filters. Their design helps extend service life and reduces maintenance costs on your HVAC equipment. 
The media is thermally bonded, continuous hydrophobic polyolefin fibers that will not shed fibers or absorb moisture. No chemical binders are used during the manufacturing process.
*Electrostatically Charged Synthetic Media
*Designed for longer service life
*Up to 30% more efficient than typical fiberglass panel filters
*High dust holding capacity
*Does not promote microbial growth
*Protects expensive HVAC equipment from effects of dirty air
This item has an extended handling time, built-to-order.
Made in the USA
Pro-Pleat MERV ratings are rated according to ASHRAE 52.2 standards. 
Filters are nominally sized with up to a 9/16" undercut on the length and width. On the thickness, 1" filters are 1/8" undercut, 2" filters are 3/4" undercut, and 4" filters are 1/2" undercut. The best way to find out what filter size you need is to measure your current filter or filter slot. If you require exact dimensions, please contact us. 
MERV Applications:
MERV 5 – 8:
Most commercial applications and better residential buildings
MERV 9 – 12:
Superior residential buildings and better commercial buildings
MERV 13 – 16:
Hospital in-patient and general surgery; found in superior commercial buildings
Extended handling time, build-to-order
Pro Pleat MERV 11 Standard Sizes
10x20x1
12x20x1
14x24x1
14x20x1
14x25x1
15x20x1
15x25x1
16x20x1
16x24x1
16x25x1
16x32x1
18x24x1
18x25x1
20x20x1
20x24x1
20x25x1
20x30x1
24x24x1
24x30x1
25x25x1
10x20x2
12x20x2
12x24x2
14x20x2
14x25x2
15x20x2
15x25x2
16x16x2
16x20x2
16x24x2
16x25x2
18x24x2
18x25x2
20x20x2
20x24x2
20x25x2
20x30x2
24x24x2
24x30x2
25x25x2
12x24x4
16x20x4
16x25x4
18x24x4
20x20x4
20x24x4
20x25x4
24x24x4
25x29x4