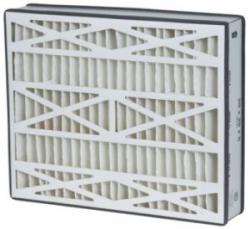 Trion Air Bear Cub Replacement Filters 16x25x3 (3 Pack) 229990-101, 248713-101, 255649-101, 435790-028, Supreme (1400) 455602-002, 441502-010
Aftermarket replacement filters that fit Trion Air Bear Cub
Currently these have a 5 week +/- handling time.
16x25x3
3 Per Case
MERV 8 or MERV 11 (choose in dropdown menu)
Specifications:
Aftermarket Trion Air Bear Cub 229990-101, 248713-101, 255649-101
Aftermarket Trion Air Bear 435790-028
Aftermarket Trion Air Bear Supreme (1400) 455602-002
Also can be used to replace Trion electronic models Trim T and Trim TX 441502-010
Nominal size 16" x 25" x 3" (Actual size 15 3/4" x 24 1/4" x 3")
For use in Air Bear Cub Air Cleaners
Filter Media - 100 % synthetic gradient media
Filter Support Grid – 30 gauge galvanized expanded metal grid
Frame –moisture resistant 28 point beverage board
Assembly Technique – Media pack totally bound to frame
Max Temperature – 108 degrees Fahrenheit continuous service, Peaks 225 degrees Fahrenheit 
Made in USA by Filtration Manufacturing, Inc.
Photo is a stock photo.
*Trade names and company names are used for identification purposes only.